Description
Note: Our Quality Assurance Team is currently screening for a clean lot of this item. At this time we have no estimated date of availability and will post an update as soon as we know. We do appreciate your business with us and your patience while we complete this process.   
**For 48 contiguous United States and Canada Shipping Only**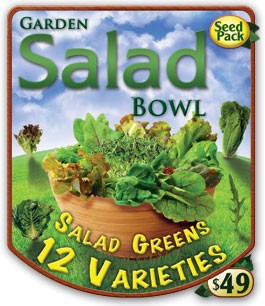 The Heirloom Organics Garden Salad Pack
is so popular because lettuce and other salad greens can be grown indoors (year-round) or outdoors and in all light conditions including no direct sunlight. The Salad Pack of lettuce and salad greens provides the quickest growing, highly nutritional varieties you can find, all 100% non-hybrid and non-GMO. 
From seed to your table in less than a month, indoors or out. Make sure your family has the Garden Salad Bowl Pack for your health and well-being. For a bigger sprouting seeds pack, try the Sprouting Seeds Pack. For all our specialty packs look here, where you can see our new Tea Garden Pack , Home and Professional Medicine Packs , Home and Professional Kitchen Herb Packs, Fruit, Chili and Tomato Packs and we even have a Livestock Pack.